Celebrities and Athletes: Salaries and Finances
January 01, 2023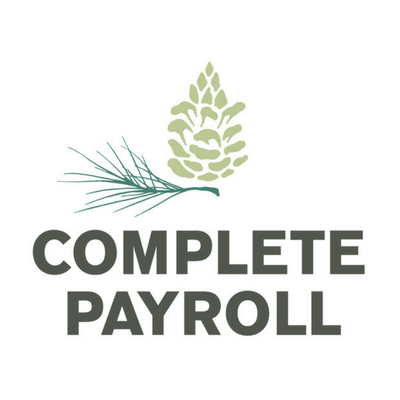 Written by Complete Payroll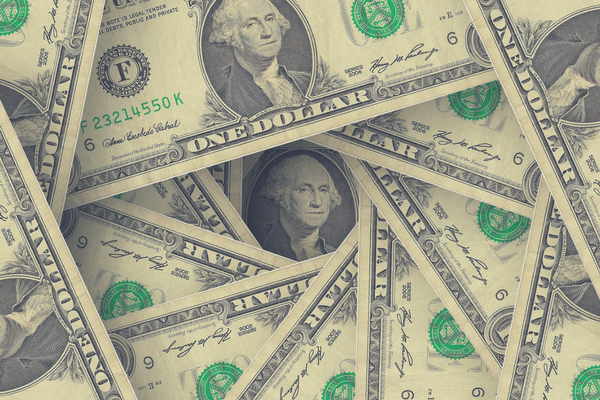 Welcome to our collection of articles exploring the financial landscapes of various industries and professions. From Victoria's Secret Fashion Show to Major League Baseball, we delve into salaries and earnings that define these sectors.
Learn about take-home pay of NFL and NBA players, financial dynamics of Uber and UberEats, income disparities in different medical professions, pay structures in schools, earnings of TV's highest-paid actors and more:
---
A breakdown of Major League Baseball player and front office salaries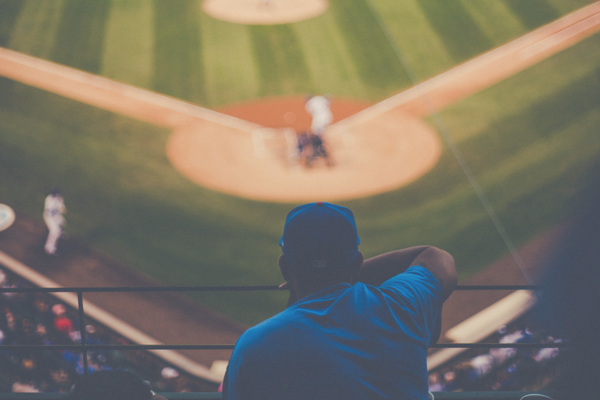 Major League Baseball has seen a mixed bag in terms of salary growth over the past 30 years. While average player salaries have grown by leaps and bounds, front office job growth has varied depending on position and demand.
Here's a closer look at MLB salaries for players and office staff.
On the Field
For MLB players, the average salary is a staggering $4,097,122 a number that passed the $4 million mark for the first time in 2017. That's about 3.3% growth over the previous year.
Baseball's highest-paid player, as of 2018, is Los Angeles Angels MVP Mike Trout at just over $34 million. He's followed closely by Clayton Kershaw at $33 million and Zack Greinke at $32 million. Miguel Cabrera, David Price, and Jake Arrieta tie for fourth place at $30 million.
The full list of MLB player salaries includes 8 players at $0 and 4 players at the major league minimum salary of $545,000.
MLB Managers
The MLB doesn't officially release coaches' salaries, but many sports experts guess and rank them. It's generally thought that Joe Maddon, Mike Scioscia, and Bruce Bochy make the most, at $5 million each. Joe Girardi, Buck Showalter, and Don Mattingly follow at $4 million, $3.5 million and $2.5 million.
The lowest-paid MLB manager probably makes around $750,000, but it's hard to know for sure. Some stats experts simply put 20 or more coaches into the "unknown" category because there's no reliable record of their salaries.
Front Office Averages
Getting your first spot in the MLB front office isn't easy, and might not come with top pay. Interns generally make about $11 an hour. A study of 128 MLB team executives found that starting salaries ranged from $20,000 to $35,000.
Management jobs within MLB staff pay around $65,000 on average, and employees who reach the level of director earn about $105,000. A vice president earns about $165,000 and a senior vice president can bring in upwards of $300,000.
About 9 out of 10 MLB presidents and CEOs made more than $400,000 last year. Some top-tier executives also make more than $400,000 in jobs like executive vice president or roles where they hold multiple titles.
Examples of Front Office Salaries
Outside of the top management positions, the overall average of MLB front office salaries is $60,000 a year. Here are some examples of salaries at various MLB office jobs, from lowest to highest-paying.
Office assistant: $36,000

Customer service representative: $37,000

Video editor: $39,000

Tech support specialist: $40,000

Editorial producer: $41,000

Administrative assistant: $43,000

Office administrator: $48,000

Senior records coordinator: $53,000

Legal assistant: $55,000

Special events coordinator: $55,000

Conference center manager: $57,000

Broadcast engineer: $61,000

Assistant to the vice president: $68,000

Marketing producer: $73,000

Senior visual designer: $83,000

Crew chief: $85,000

Director of security: $85,000

Senior QA engineer: $85,000

Web producer: $85,000

Marketing director: $88,000

Director of customer service: $95,000

Camera operator: $96,000

Equipment services manager: $103,000

Assistant director: $111,000

Director of operations: $116,000

Advertising consultant: $125,000

Accounting manager: $125,000

Product manager: $126,000

Senior director: $136,000

IT manager: $138,000
Looking for more helpful salary information? Stop by the Complete Payroll blog or contact us for HR and payroll expertise.
---
The salaries of the top 5 highest paid NBA players all have 2 commas and a whole lot of zeros. We all know that NBA players earn some serious bank. What we don't know are the specifics. Your Google search for the "Highest Salaries of the NBA" might show you how much these players signed contracts for, but those numbers probably don't reflect how much money they actually take home.
The published and highly publicized salaries of the top NBA players do not account for agency fees, federal, state and city taxes, as well as other various deductions.
So, how much do these NBA stars actually take home? We found a really interesting article from ESPN that shows the take-home pay of the highest-paid NBA players after all the deductions come out. You can find that article here. But being the (sometimes nerdy) payroll people that we are, we of course wanted to dive a little deeper into it...
Deduction Breakdown
You'll notice a large portion taken out of a player's gross salary goes towards deductions. These deductions include Escrow, Federal Taxes, City/State Taxes, Agent fees, and maximum 401k contributions. The largest differences we see between the salaries of the players we analyzed are the state and city taxes. Steph Curry has the highest state/city taxes, with 11.8% being deducted from his gross income. Whereas, Millsap has the lowest state/city taxes, with 4.2% being deducted from his gross income. Another deduction to take note of is Escrow. In the beginning of each season, 10% of the player's gross income is held in escrow. Escrow is then given back to the players as long as the owners pay the players an agreed upon percentage of Basketball Related Income.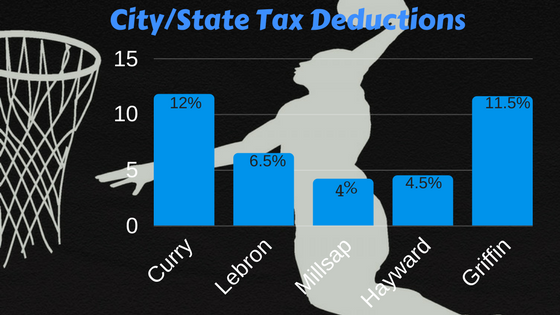 Gross Pay vs. Net Pay
City/State taxes play such a large part in determining the players take home pay. As you can see below, Steph Curry goes from being the 1st highest gross paid player to the 3rd highest net paid player. Curry's California state taxes are to blame for this decrease in take home pay. Lebron James (Ohio) ends up taking home the highest salary due to his low city/state tax deductions.
---
Don't you love how you don't need to be a current or former POTUS to celebrate the holiday? The banks are closed today but we're hard at work. And we took a moment to celebrate President's Day the only way we know how to here in Payroll Country - by compiling interesting payroll and salary data about the federal government. Read on.
How much does the President make?
The initial salary for the President of the United States (POTUS) was set at $25,000 back in 1789. It has been raised only 5 times since then. Today, the POTUS makes $400,000 per year.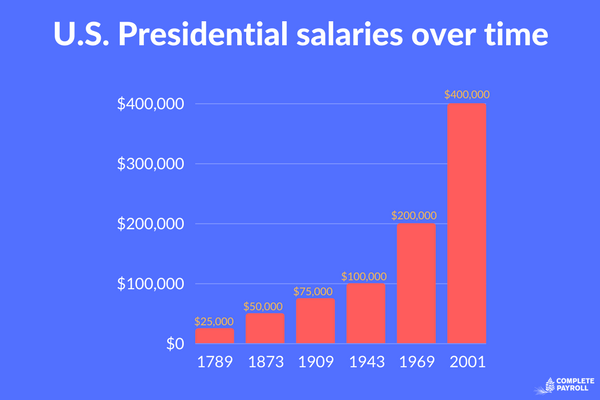 Although his term was from 1789-1797, George Washington initially took office with no official salary. Washington's salary was finally enacted on September 24, 1789, which was almost five months after he took office. Following George Washington, the idea of a fixed salary for both the president and the vice president has been consistent.
George Washington's Vice President (John Adams) and his cabinet members each earned salaries of $3,500.
How much do Supreme Court Justices make?
The Supreme Court has nine justices - one Chief Justice and eight other associate justices. When the salaries were initially set back in 1789, the Chief Justice earned $4,000 per year and the associate judges earned $3,500.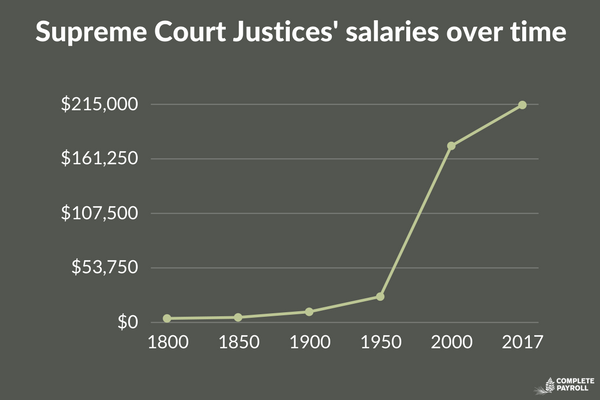 While the President's salary has only increased 5 times since 1789, the salaries for the Supreme Court Justices has increased 51 times over the same period. Currently, it has increased to $286,700 (Chief Justice) and $274,200 (associate judges) where it has remained since.
A Wikipedia article shows each salary increase, and adjusts each salary for inflation to show a comparison to 2016 dollars. Adjusted for inflation, the "biggest" salary a Supreme Court Chief Justice ever enjoyed was $68,800 back in 1969, which is equivalent to approximately $408,178 today.
How much do other senior US officials make?
The Vice President makes $235,100. A member of the Unites States Congress (both Senators and House Representatives) earn $174,000. Majority and Minority leaders each earn $193,400. And the speaker of the house earns $223,500.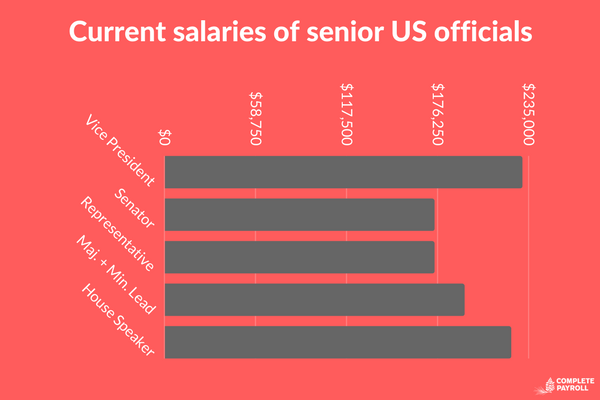 The White House
According to a 2014 report from The Hill, The White House pays out a total of $37.8 million in salaries to a total of 456 employees (in Washington D.C. they're called staffers). That makes for an average salary of $82,844, although the salaries are top-heavy. The median salary is actually $70,000.
The maximum salary for White House administrative staffers (non-elected representatives that aid the President) is $180,000. At the time of this report, there were 24 employees who were earning the maximum salary.
The lowest paid salary for a White House employee was $48,000.
---
DISCLAIMER: The information provided herein does not constitute the provision of legal advice, tax advice, accounting services or professional consulting of any kind. The information provided herein should not be used as a substitute for consultation with professional legal, tax, accounting, or other professional advisers. Before making any decision or taking any action, you should consult a professional adviser who has been provided with all pertinent facts relevant to your particular situation and for your particular state(s) of operation.
Get The Newsletter
Bi-weekly on Thursdays. We compile HR best practices, labor law updates & other content to help you pay and manage your workforce more effectively.